In this course, you'll learn a sequence of 5 strategies for communicating science in a picture—based on the easy-to-remember acronym S.P.A.R.K. Each letter represents one strategy. You'll learn exactly how a picture evolves from beginning to end. As you progress through the course, you'll see step-by-step demos of each strategy applied to a case study image.
S.P.A.R.K. is perfect for you if—right now—you're working on a presentation, a paper, or a project, and find yourself struggling to communicate clearly. Follow S.P.A.R.K.'s step-by-step process, and you will have a picture by the end of the course. And we think you'll be surprised by what you're able to accomplish!
What you'll learn in this course
You'll learn core concepts of visual communication that'll be useful whether you're an expert or a student, a novice or a pro. This is not a course on how to draw. What you'll learn can be applied to many different ways of presenting information—such as diagrams, charts, or data visualizations. Your pictures can be drawn by hand, or you can use software you already know.
Each video is only 10 minutes or less. You'll learn:
A perfect way to jumpstart your visual thinking and transition from words to pictures
How to speak with the 8 elements of visual language
Ways to target your audience's visual sweet spot
Tips for communicating to people who aren't familiar with your topic
It takes about 3 hours total to watch all the videos. If you do a hands-on project (which we think is a great idea) that will add more time. But, then you'll have a picture by the end of the course!
Remember - All great pictures go through an "ugly" phase!
If you think you aren't skilled enough to make a great picture, remember, all pictures go through an "ugly" phase. Working through the course and getting some ideas down on paper will jump-start your creativity and put you on a path toward a great picture! Even our course instructors start out with simple scribbles. Check out this example from course instructor and Scientific Illustrator Tami Tolpa:

S.P.A.R.K. has been used to teach strategies for the visual communication of science at such organizations as:
S.P.A.R.K. has been taught in person at Stanford and UCSF. 100% of participants answered "yes" when asked in a survey, "Do you think you will be able to use what you learned in this course?"
Here are some of their other comments:
"This course should be required training for anyone in science, in my opinion, because the whole goal of scientific endeavors is to be able to communicate something new and these concepts often can't be translated effectively into words. I see a gap between those who are generating data and those who are communicating these results."
"As computational biologists an integral part of our work is developing and explaining complex mathematical models.  Pictures can be a great way of doing this, but can often seem quite daunting to make.  Picture as portal helps to break down this barrier by providing a step by step algorithm for turning an initial idea into a finished picture."
"Amazing course. I've never seen anything quite like this and was thrilled to get such great instruction on a challenging and rarely taught topic."
"The course far exceeded my expectations because it taught me a new way to see."
"… the best thing I learned was how powerful it is to communicate concepts by visuals."
"This was an extremely practical, hands on class. The techniques I learned will definitely help me on the job."
"AWESOME CLASS!"
Do you have a group that would benefit from S.P.A.R.K.? Group rates are available. Please contact us so we can learn more about what you need.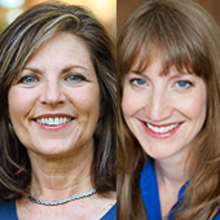 Co-instructors
Picture as Portal, LLC.
We're Betsy Palay and Tami Tolpa—partners in Picture as Portal, LLC and the co-creators of SPARK. We're both medical illustrators. And between us we've created hundreds of pictures that successfully communicate complex ideas for clients such as Scientific American magazine, Genentech, and NASA. Our work has garnered over a hundred industry awards.What we've learned is how to make pictures that are far more powerful than words for communicating complex ideas. And we want to share those skills with you. We hope SPARK will change forever the way you think of pictures and use them to communicate.We regard a picture as a portal—a dynamic doorway—between your ideas and your audience. Our mission is to help you make your ideas accessible to others by harnessing the power of pictures. So let's get started!
2

Video 2: What is a picture? (9:24)

Video 3: Making clear pictures (5:53)

3

Video 4: Context sandwich (7:02)

- PDF: Context sandwich worksheet

Video 5: DEMO - Serve a Sandwich (6:29)

4

Bridge From Words to Pictures

Video 6: DEMO - Jumpstart visual thinking (7:06)

- PDF: Visual menu template

5

Video 7: Path patterns (7:43)

- PDF: Path pattern chart

Video 8: Narrative paths (7:24)

Video 9: DEMO - Plan a Path (6:31)

6

A --- Access your Audience

Video 10: Audience sweet spot (10:29)

- PDF: Sweet spot locator

Video 11: Let go of literalism (10:29)

Video 12: Customize to connect (10:45)

Video 13: DEMO - Access your Audience (6:16)

7

R --- Refine Relationships

Video 14: Visual triage (6:49)

Video 15: Elements of visual language 1 (9:20)

- PDF: Elements of visual language chart

Video 16: Elements of visual language 2 (10:44)

Video 18: Bonus tips (8:24)

Video 19: DEMO - Refine Relationships (9:07)

8

Video 20: Best practices for color 1 (9:01)

Video 21: Best practices for color 2 (7:44)

Video 22: Best practices for text (9:49)

Video 23: DEMO - Keep it clear (5:57)

9

Video 24: How to use the SPARK checklist (5:34)

- PDF: Video summaries 6 per page